Summer is upon us and time for change, that old workhorse is the perfect weekend retreat day van! and a fantastic DIY project.
The Project Begins
Commercial Builders Van to Campervan
Insulate for Heat and Sound.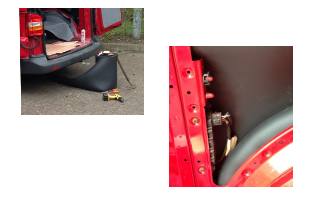 Keeping warm in winter, cool in summer and quiet all year round.
There are many different insulation materials people use for a van conversion.
* Fibre glass loft insulation is very cheap but not very nice to work with and can absorb moisture.
* Rigid foam insulation, polyisocyanurate (PIR) such as celotex and expanded polystyrene sheets but they can squeak and are not so easy to perfectly fit the curves of a van.
* Closed cell neoprene sponge rubber sheet is more expensive but it's easy and clean to work with, has good sound deadening qualities and will not absorb moisture.